Pollution
Control
Unit

Reduces Odor
Removes Smoke & Grease
Pollution Control Unit (VPCU)
System Overview
The Pollution Control Unit, VPCU Series, is a mechanical filter arrangement for the removal of smoke and grease particulate from the exhaust air stream of kitchen exhaust systems. The typical VPCU includes a washable steel pre-filter and disposable, high efficiency (MERV 15) media filter. An additional high efficiency (MERV 15) / HEPA module is available for smoke control. Odor control is handled via an optional module ( typically 50/50 blend carbon/permanganate OR 100% carbon blend). Sizes range in capacity up to 20,000 CFM.
The VPCU is ETL listed and is suitable for indoor or outdoor installations.
Standard Features & Benefits
Constructed specifically to meet kitchen exhaust duct standards
Optional Odor Removal Module
Unit may be shipped in one piece or in sections
Optional Pre Filter Section
Optional exhaust fan
Optional Advanced Filter Monitoring System
Optional Fire Suppression System
Optional Exhaust Fan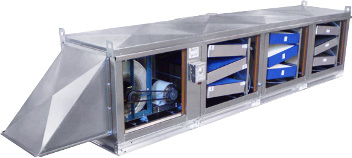 Standard Fan Features & Benefits
TEFC, Class H insulation, washdown duty motors
Heavy duty construction, durable and weather resistant
Non-overloading backward inclined wheels
Fully Adjustable motor mounting base
Quick release latches allow for easy access to motor compartment
Variable pitch motor pulley allows for field adjustment and system balancing
High efficiency combined with low tip speeds results in quiet operation
Standard emergency disconnect switch
Exhaust Fan Options
Opposite Side Controls
Roof Equipment Rails
Side Discharge Outdoor Screen
Advanced Filter Monitoring System (Optional)
The Pollution Control Unit (VPCU) with Advanced Filter Monitoring option offers and automated assessment of the unit to ensure proper operation.
System Overview
The Advanced Filter Monitoring includes a module that provides the necessary precision pressure measurements for accurate monitoring of the complete system. Based on the measurements, the module will then initiate actions via the electric control package and give readings to the user. Direct access to the operating conditions are provided through the use of an HMI (human machine interface), which is conveniently located in the VPCU.
System Features & Advanced Filter Monitoring Benefits
Sustainability — Extends life of various filters, address specific filters which need replacement based on monitoring
Ease of Installation and Startup — automatic calibration of the system via HMI
Maintenance — Provides advanced notice, pinoints specific faults to address
Reliability — Ensures proper operation of the VPCU
Monitors Pressure Drop across each filter module of the VPCU
Missing Door or Missing Filter Indication — fans and cooking equipment will shut off if faults indicated
Detects Filter Saturation Percentage