Commercial Hoods
Wall Canopy Exhaust Hood
The canopy style wall ventilator with front supply plenum provides maximum efficiency through low exhaust rates and the most effective make up air delivery in the industry. The automated production process ensures fast and consistent construction.

Product Information
Sloped Front Wall Canopy Exhaust Hood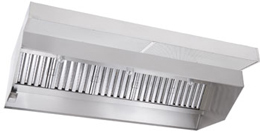 The sloped front canopy ventilator offers the same proven technology of our standard canopy hood with an efficient and aesthetic solution for kitchens with low ceilings.

Product Information
Island Exhaust Hood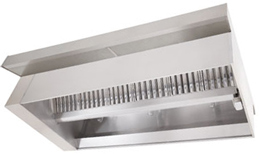 The island style ventilator meets the challenges of any open floor plan cooking application. The one-piece hood with double wall insulated front and rear, along with insulated end standoffs provides clearance to combustibles and increased rigidity.

Product Information
Low Proximity Backshelf Hood
The compact backshelf hoods are affordable solutions for mobile kitchens, concession trailers and other small spaces.

Product Information
Heat & Condensate Exhaust Hood
The heat and condensate exhaust hood provides relief over non-grease appliances.

Product Information